Transparency Market Research社について
 About Transparency Market Research
Who We Are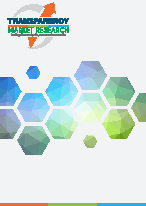 Transparency Market Research has set a benchmark in the industry of market research and survey, offering our clients syndicated market research reports that cover the entire market as well as provide meticulous research and analyst insights. We offer customizable research reports and consulting services that suit your specific business needs. Our dedication to providing fact based and relevant research studies makes us one of the top five most promising market research organizations in India. We offer unique report titles that cover the entire landscape of the specific industry from a host of industry verticals.
Through usage of industry leading analytical software and tools as well as the guidance and expertise of various subject matter experts and industry leaders, we offer meaningful insights into performance of the subject industry and provide comprehensive data about its past performance as well as future projections. We offer an extensive list of research titles that fall under one of the following industry verticals – chemicals and materials, defense, energy and natural resources, food and beverages, heavy engineering equipment, packaging, automotive and transport, consumer goods and services, electronics and semiconductors, factory automation, healthcare, IT and telecom, and pharmaceutical.
- Visionary Team -
With well-versed analysts, researchers, and forecasters at the helm, Transparency Market Research offers diligent and detailed report titles that feature industry trends – contemporary, emerging, as well as past, and attractive opportunities for expansion – both in terms of industry share as well as regional presence, and an extensive overview of the competition. Apart from this, our clients can get in touch with us for any and all of their customization needs. We can tailor the report to your specific needs and include any information that can and will aid you in making informed and profitable business decisions.
- Nexpertise -
Always with one eye on the future, our research team constantly tries to 'write' the big picture for you. They constantly crunch numbers, evaluate trends, and offer detailed statistical information that can help you make an impact in your field. Since they are focused on the future, on what comes next, we dub them as 'Nexperts.' Our analysts and researchers take a deep dive into the subject industry as well as other supplementary or related industries in order to offer holistic information about any cross-sectional changes and impacts of the global economy and related fields on your field. With dedicated analysts focused on long term trends – both positive and restrictive, and industry trajectories, our clients are always prepared for the next 'big thing' in their domain.
- Customized Research, Personalized Format -
We also know that no one size fits all. We use different techniques and methodologies to research and survey every industry vertical. Our unique approach to market research is a product of agility, years of experience of researching a wide plethora of diverse industry verticals, and mastery over market analysis. While we provide a customized solution specifically for you, we also ensure confidentiality of data to offer you complete privacy. Along with primary and secondary research, we verify acquired data in-house with the help of subject matter experts and triangulate essential data by using industry leading tools. After a thorough research process is conducted, the data verified, and results and conclusions drawn, we present our findings in a customized format for your easy evaluation.