エネルギー産業におけるROV(遠隔操作無人探査機)の世界市場2014年-2024年
Remotely Operated Vehicles (ROV) in the Energy Industry 2014-2024
出版元:Visiongain(英国)出版元情報

発行年:2013年12月

定価 Single User License(1名様ライセンス) 1,799GBP(英国ポンド) / Department License(5名様ライセンス) 2,999GBP/ Site License 4,999GBP / Global Site License 6,999GBP

ご請求は円換算(お見積り日TTSレート)となります。

納品形態:PDF by Email

当調査レポートは英文202ページになります。

商品コード:VGN141
お問い合わせ、お見積りのリクエストは下のボタンをクリックしてご入力ください。





【レポート紹介】
遠隔操作無人探査機(Remotely operated vehicles (ROVs))は、エネルギー産業で行われるほぼ全ての水中活動にとって不可欠の物になっていると言えるでしょう。今やROV無しには海底インフラに関する重要な設置作業、検査、保守、そして解体廃棄活動は成り立ちません。海洋環境での活動が一層複雑化し、作業量も増大するにつれて、ROVに対する需要も拡大しています。こうした背景を踏まえてVisiongain社ではROVの新サービスと新規建造に対する支出の強力な成長を予測しています。
欧州は北海生産と掘削活動の減少によってROVサービスへの需要が減少すると見込まれる唯一の地域ですが、それでも解体廃棄と保守活動が支出水準を支えると見られます。深海および超深海探査・生産もROVサービスへの支出を下支えするでしょう。掘削支援活動と海底インフラ設置は検査や保守活動によって補完されます。油田延命への試みは既存ROV船団の年間タスク量を増やしています。稼働率は向上しROV船団は年々拡張されています。
老朽化するインフラは、海上での解体廃棄や保守活動の量を増大させています。メキシコ湾原油流出事故以降、特に北米における安全基準の強化もまたこうした活動の頻度を増やすことにつながっており、これらは全てROV需要へ直結するものです。
海洋ガス開発、特にオーストラリア沿岸、東地中海と東アフリカ沿岸、はROVサービスへの新規需要を創出しています。海洋ガス田からの抽出、精製についてはFLNGなどの低コスト負担の方法があるため、ガス産業におけるこの新規トレンドは将来のROV関連支出を予測する上で大きな意味を持っていると言えそうです。
これらの背景分析の結果、Visiongain社では世界のROV関連支出は2014年に24億9600万ドルに達すると推計しています。ROV市場は1)ROVオペレーション・サービス市場、および2)ROV新規建造市場の2つから成っています。後者は前者への需要に連動しますが、ROVの低い廃棄率と既存機改修での対応などは新規建造への下方圧力となるでしょう。

【レポート構成概要】
・遠隔操作無人探査機(ROV)新規建造+サービスの世界市場予測2014-2024年
・市場の詳細支出予測($US)、競合分析、市場の促進要因と阻害要因、市場シェア
・全201ページ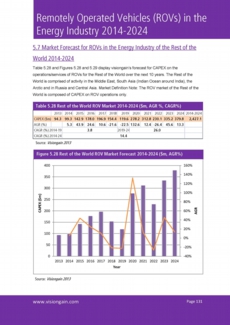 レポートページ抜粋
・156個のデータ表、グラフ類で市場を定量化
・ROV業界専門家オピニオンインタビュー:Saab-Seaeye
・主要地域別ROVオペレーション・サービス市場支出予測
• Africa
• Asia Pacific
• Europe
• North America
• Rest of the World
• South America
・主要地域別ROV新規建造市場(CAPEX)
• Europe
• North America

・ROVタイプ別市場予測(CAPEX)
- 軽量級ROV。Forecast and analysis for CAPEX on Observation, Inspection and Light Work-Class ROVs for the energy industry.
- 中・重量級ROV. Forecast and analysis for CAPEX on Medium and Heavy Work-Class ROVs for the energy industry.
- 自立型無人潜水艇(AUV)新規建造。Forecast and analysis for CAPEX on AUV new builds for the energy industry from 2014 to 2024.

・参入障壁分析
• 地域別geographical market space in which ROVs will be utilised
• 新規建造タイプ別new build ROV type

・PEST分析(政治、経済、社会、技術分析)
- Oil price considerations
- The importance of government regulations
- Emerging trends in the offshore environment, such as the mobile offshore drilling, decommissioning and deepwater and ultra-deepwater markets.
・既存ROV船団詳細
• ROV type
• ROV operator
・オペレーター別ROV船団数の将来予測
・地域別、解体廃棄の主要規制情報(ROV促進要因)
・主要海底設置、掘削プロジェクト情報
・バリューチェーン分析
・リーディング企業16社(ROV製造メーカー)プロフィール。製品検証、船団、将来展望
- Canyon Offshore
- DeepOcean Group
- DOF Subsea
- Forum Energy Technologies
- Fugro
- Halling Marine
- Harkand
- IKM Subsea
- Oceaneering International
- Saab Seaeye
- Saipem
- Schilling Robotics
- Soil Machine Dynamics (SMD)
- Subsea 7
- Technip
- VideoRay
Visiongain is a trading partner with the US Federal Government
【レポート詳細目次は当ページ下を参照ください】
英文詳細目次(table of contents)
Remotely Operated Vehicles (ROV) in the Energy Industry 2014-2024
Table of Contents
1. Executive Summary
1.1 Global ROV Market Overview
1.2 Benefits of This Report
1.3 Who is This Report For?
1.4 Methodology & Market Definition
1.5 Global ROV Market Forecast 2014-2024
1.6 Regional ROV Market Forecasts 2014-2024
1.7 Global AUV Market Forecast 2014-2024

2. Introduction to the ROV Market
2.1 Remotely Operated Vehicles in the Energy Industry
2.2 Brief History of ROVs
2.3 Types of ROV
2.4 ROV Tasks in the Energy Industry
2.5 ROVs in the Energy Market: Market Definition and Structure

3. Global Market Forecast for ROVs in the Energy Industry 2014-2024
3.1 What Are the Core Drivers and Restraints Affecting CAPEX on ROV Operations, Services and Construction Worldwide?
3.2 What Activity Type is Currently the Most Important to Spending on ROVs?
3.3 ROV Demand Cycle
3.4 What Are The Most Prominent Regional Trends In The Energy Industry Affecting CAPEX On ROVs?

4. ROV Submarket Forecasts 2014-2024
4.1 Global ROV Operations/Services Submarket 2014-2024
4.1.1 How Will Offshore Oil and Gas E&P Activity Affect ROV Utilisation Rates?
4.1.2 How Much Demand Growth is Expected for Offshore Maintenance/Inspection Activity and What Impact Will This Have on ROV Demand?
4.1.3 How Does the Decommissioning Market Affect the ROV
4.1.4 What Are The Main Restraints on the ROV Operations and Services Submarket?
4.2 Global CAPEX on New Build ROVs 2014-2024
4.2.1 Drivers and Restraints on ROV New Build CAPEX
4.2.2 Who Manufactures ROVs?
4.2.3 Which Regions Contain Dominant ROV Manufacturers and Why?
4.2.4 How Likely Is It That There Will Be An Increase in the Regional Diversity of ROV Construction?
4.3 Global CAPEX on New Build Observation, Inspection and Light Work Class ROVs for the Energy Industry
4.4 Global CAPEX on Medium- and Heavy-Work Class ROVs for the Energy Industry

5. Regional ROV Market Forecasts 2014-2024
5.1 ROV Markets Barriers to Entry Analysis
5.1.1 Regional Markets Barriers to Entry Analysis
5.1.2 What Are The Barriers to Becoming a Manufacturer and/or Operator of an ROV(s)?
5.1.3 ROV Submarket Barriers to Entry Analysis
5.2 ROVs in the European Energy Industry Market Forecast 2014-2024
5.2.1 Drivers and Restraints on the European ROV Market
5.2.2 Major European Subsea Hardware Installation and Offshore Drilling Projects
5.2.3 How Great Will Offshore Maintenance Requirements Be in Europe?
5.2.4 How Important is Offshore Decommissioning to ROV Demand in Europe?
5.2.5 UK Offshore Decommissioning
5.2.6 Norwegian Decommissioning
5.2.7 Will A Slowdown in Offshore E&P Activity to Affect European ROV Demand?
5.3 ROVs in the North American Energy Industry Market Forecast 2014-2024
5.3.1 Drivers and Restraints on the North American ROV Market
5.3.2 Major North American Subsea Hardware Installation and Offshore Drilling Projects
5.3.3 What Influence Will Safety Regulations Have on ROV Demand in the Gulf of Mexico?
5.3.4 What Will The Impact of Mexican Constitutional Changes Be On ROV Demand?
5.3.5 What Impact Will Decommissioning Activity In The Gulf of Mexico Have On The North American ROV Market?
5.4 ROVs in the South American Energy Industry Market Forecast 2014-2024
5.4.1 Drivers and Restraints on the South American ROV Market
5.4.2 Major South American Subsea Hardware Installation, FPSO Installation and Offshore Drilling Projects
5.5 ROVs in the African Energy Industry Market Forecast 2014-2024
5.5.1 Drivers and Restraints on the African ROV Market
5.5.2 Which Offshore Spaces Around Africa Will See The Greatest Increase in ROV Demand
5.5.3 Major African Subsea Hardware Installation and Offshore Drilling Projects
5.5.4 Challenges To The Development of an East African Offshore Industry
5.6 ROVs in the Asia Pacific Energy Industry Market Forecast 2014-2024
5.6.1 Drivers and Restraints on the Asia-Pacific ROV Market
5.6.2 Major Asia Pacific Subsea Hardware Installation and Offshore Drilling Projects
5.6.3 How Important is Decommissioning Activity in the Asian Pacific Region to ROV Spending?
5.7 Market Forecast for ROVs in the Energy Industry of the Rest of the World 2014-2024
5.7.1 Major Subsea Hardware Installation and Offshore Drilling Projects in the Rest of the World

6. Autonomous Underwater Vehicles in the Energy Industry
6.1 Autonomous Underwater Vehicles (AUVs)
6.2 Global Market Forecast of AUVs for the Energy Industry 2014-2024
6.2.1 Amount of AUVs Utilised in by the Energy Industry
6.2.2 Global Drivers & Restraints on AUV Use by the Energy Industry
6.2.3 AUV CAPEX vs. ROV CAPEX

7. PEST Analysis of the ROV Market 2014-2024
8. Expert Opinion
8.1 Saab Seaeye
8.1.1 Saab Seaeye in the ROV Market
8.1.2 The Evolution of the ROV/AUV Markets
8.1.3 Improving HSQE Standards Offshore and the ROV Market
8.1.4 Are ROVs Becoming Increasingly Specialised Or Is Their Functionality Range Increasing?
8.1.5 What Are The Reasons For An ROV To Be Retired?
8.1.6 What Limitations Are There On The ROV Market?
8.1.7 ROV Price Variability
8.1.8 How Sector Specific Are ROVs?
8.1.9 Innovation in the ROV Industry
8.1.10 Will Any One Type of ROV Be In Particularly Strong Demand Going Forward?
8.1.11 Are There Any ROV Manufacturers Outside of Europe and North America?
8.1.12 Asian Pacific Competition in the ROV New Build Market

9. Leading Companies in the ROV Market
9.1 New Build ROV Manufacturers
9.1.1 Forum Energy Technologies
9.1.1.1 Future Outlook
9.1.1.2 Relevant Merger & Acquisition Activity
9.1.2 Saab Seaeye Overview
9.1.2.1 Future Outlook
9.1.3 Schilling Robotics Overview
9.1.3.1 Schilling Becomes Part of FMC Technologies
9.1.3.2 Future Outlook
9.1.4 Soil Machine Dynamics (SMD) Overview
9.1.4.1 Future Outlook
9.1.5 VideoRay Overview
9.1.5.1 Future Outlook
9.2 New Build ROV Manufacturers & ROV Service Providers/Operators
9.2.1 Fugro Overview
9.2.1.1 Future Outlook
9.2.2 Hallin Marine Overview
9.2.2.1 Future Outlook
9.2.3 IKM Gruppen (IKM Subsea) Overview
9.2.3.1 Future Outlook
9.2.4 Oceaneering International Inc. Overview
9.2.4.1 Future Outlook
9.2.4.2 Drill Support and the MODU Market
9.2.5 Subsea 7 S.A. (incl. i-Tech) Overview
9.2.5.1 Future Outlook
9.3 ROV Service Providers/Operators
9.3.1 Canyon Offshore Overview
9.3.1.1 Future Outlook
9.3.2 DeepOcean Group Overview
9.3.2.1 Future Outlook
9.3.3 DOF Subsea Overview
9.3.3.1 Future Outlook
9.3.4 Harkand Overview
9.3.5 Saipem Overview
9.3.5.1 Future Outlook
9.3.6 Technip Overview
9.3.6.1 Future Outlook
9.4 Other Leading Companies in the Market

10. Conclusions & Recommendations
10.1 Global ROV Market Outlook `
10.2 Global ROV Market Drivers & Restraints
10.3 Global and Submarket ROV Forecasts 2014-2024
10.4 Leading Regional Market Forecasts 2014-2024

11. Glossary
List of Tables
Table 1.1 Global ROV Submarket Forecast Summary 2014, 2019, 2024 ($m, CAGR %)
Table 1.2 Regional ROV Market Forecasts Summary 2014, 2019, 2024 ($m, CAGR %)
Table 3.1 Global Market Forecast 2014-2024 ($bn, AGR %, CAGR%, Cumulative)
Table 3.2 Global ROV Market Drivers and Restraints
Table 4.1 ROV Submarkets CAPEX Forecast, by region, 2014-2024 ($m, AGR %, CAGR%)
Table 4.2 ROV Operations/Services CAPEX Forecast 2014-2024 ($m, AGR %, CAGR%)
Table 4.3 Australian LNG Export/Liquefaction Terminals Planned/Under Construction To Be Fed by North West Shelf Offshore Natural Gas (Location, Operator/Owner, Capacity, Construction Cost $, Construction Period)
Table 4.4 Regulation with Affect on Offshore Decommissioning (Name of Regulation, Description of Regulation)
Table 4.5 Regional Offshore Oil and Gas Decommissioning Market Forecasts Summary 2013, 2018, 2023 ($m), 2013-2023 CAGR (%)
Table 4.6 ROV New Build CAPEX Forecast 2014-2024 ($m, AGR %, CAGR%)
Table 4.7 ROV New Build Drivers and Restraints
Table 4.8 Observation, Inspection and Light Work Class CAPEX Forecast 2014-2024 ($m, AGR %, CAGR%)
Table 4.9 Medium- & Heavy Work Class ROV New Build CAPEX Forecast 2014-2024 ($m, AGR %, CAGR%)
Table 5.1 Regional ROV Market Forecast 2014-2024 ($m)
Table 5.2 European ROV Market and Submarket Forecasts 2014-2024 ($m, AGR %, CAGR%)
Table 5.3 European ROV Market Drivers & Restraints
Table 5.4 Major Norwegian Subsea Hardware Installation and Offshore Drilling Projects (Project, Majority Partner, Status)
Table 5.5 Major UK Subsea Hardware Installation and Offshore Drilling Projects (Project, Majority Partner, Status)
Table 5.6 Major European Subsea Hardware Installation and Offshore Drilling Projects excluding UK & Norway (Project, Majority Partner, Country, Status)
Table 5.7 Current Contracts and Projects in the UK North Sea (Area, Operator, Estimated Costs, Estimated Period)
Table 5.8 Structure Characteristics of the Brent Field
Table 5.9 Major Projects Considered for Decommissioning (Location, Operator, Status)
Table 5.10 North American ROV Market and Submarket Forecasts 2014-2024 ($m, AGR %, CAGR%)
Table 5.11 North American ROV Market and Submarket Forecasts 2014-2024 ($m, AGR %, CAGR%)
Table 5.12 North American ROV Market Drivers & Restraints
Table 5.13 Status of Major North American Drill Support and Subsea Hardware Installation Projects Requiring ROVs (Project, Majority Partner, Country, Status)
Table 5.14 South American ROV Market 2014-2024 ($m, AGR %, CAGR%)
Table 5.15 South American ROV Market Drivers & Restraints
Table 5.16 Major South American Subsea Hardware Installation and Offshore Drilling Projects (Project, Majority Partner, Country, Status)
Table 5.17 Current Brazilian FPSO Projects (Owner, Location, Field Operator, Status, Earliest Operation)
Table 5.18 Recent & Upcoming Offshore Licensing Rounds in South America
Table 5.19 African ROV Market 2014-2024 ($m, AGR %, CAGR%)
Table 5.20 African ROV Market Drivers & Restraints
Table 5.21 Major African Subsea Hardware Installation and Offshore Drilling Projects excluding UK & Norway (Project, Majority Partner, Country, Status)
Table 5.22 East African Countries' Global Competitiveness Report 2012-2013 Scores
Table 5.23 East African Countries' Doing Business 2013 Scores
Table 5.24 East African Countries' Corruption Perception Index 2012 Scores (Out of 174)
Table 5.25 Asia Pacific ROV Market 2014-2024 ($m, AGR %, CAGR%)
Table 5.26 Asia Pacific ROV Market Drivers & Restraints
Table 5.27 Major Asia-Pacific Subsea Hardware Installation and Offshore Drilling Projects excluding UK & Norway (Project, Majority Partner, Country, Status)
Table 5.28 Recent Offshore Licensing Rounds in Asia Pacific
Table 5.29 Rest of the World ROV Market 2014-2024 ($m, AGR %, CAGR%)
Table 5.30 Major Subsea Hardware Installation and Offshore Drilling Projects in the Rest of the World
Table 6.1 Global AUV Market Forecast 2014-2024 ($m, AGR %, CAGR%, Cumulative)
Table 6.2 Global Drivers & Restraints on AUV Use by the Energy Industry
Table 7.1 PEST Analysis of the Market 2014-2024
Table 9.1 Leading Companies in the ROV Market by Type (Manufacturers, Manufactures/Service Providers, ROV Services)
Table 9.2 Forum Energy Technologies (FET) Overview (Total Revenue (2012), Submarket, HQ, Website)
Table 9.3 Forum Energy Technologies Product Overview
Table 9.4 Saab Seaeye Overview (Revenue, Submarket, HQ, Website)
Table 9.5 Saab Seaeye Product Overview
Table 9.6 Schilling Robotics Overview (Submarket, HQ, Website)
Table 9.7 Schilling Robotics Product Overview
Table 9.8 Soil Machine Dynamics Overview (Revenue, Submarket, HQ, Website)
Table 9.9 Soil Machine Dynamics Product Overview
Table 9.10 VideoRay Overview (Revenue, Submarket, HQ, Website)
Table 9.11 VideoRay Product Overview
Table 9.12 Fugro Overview (Revenue, Contract Backlog, Number of ROVs, Submarket, HQ, Ticker, Website)
Table 9.13 Fugro ROVs (Model, Type, Depth Rating, Payload, Power, Manipulators)
Table 9.14 Hallin Marine Overview (Revenue, ROVs, Submarket, HQ, Ticker, Website)
Table 9.15 Hallin Products (Model, Type, Depth Rating, Payload, Power)
Table 9.16 IKM Gruppen Overview (Revenue, ROVs, Submarket, HQ, Website)
Table 9.17 Major IKM Gruppen Recent and Ongoing Projects (Client/Country, Value, Date, Details)
Table 9.18 Oceaneering International Inc. Overview (Total Revenue, Revenue from Market, % Revenue From Market, ROVs, Submarket, HQ, Ticker, Website)
Table 9.19 Oceaneering International Inc. Product Overview
Table 9.20 MODU Submarket Forecasts Summary 2013, 2018, 2023 ($m, CAGR %)
Table 9.21 Subsea 7 (incl. i-Tech) Overview (Revenue, Contract Backlog, ROVs, Submarket, HQ, Ticker, Website)
Table 9.22 Subsea 7 & i-Tech ROV Overview (Model, Type, Depth Rating, Payload, Power, Manipulators)
Table 9.23 Canyon Offshore Overview (Revenue, Contract Backlog, ROVs, Submarket, HQ, Ticker, Website)
Table 9.24 DeepOcean Overview (ROVs, Submarket, HQ, Website)
Table 9.25 North Sea Offshore Oil and Gas Decommissioning Market Forecasts 2013, 2018, 2023 ($m), 2013-2023 CAGR (%)
Table 9.26 DOF Subsea Overview (Operating Income, Contract Backlog, ROVs, Submarket, HQ, Ticker, Website)
Table 9.27 DOF Subsea Vessel Orders (Vessel, Yard, Delivery, Type, Contract)
Table 9.28 Harkand Overview (Submarket, HQ, Website)
Table 9.29 Saipem Overview (Revenue, Contract Backlog, ROVs, Submarket, HQ, Ticker, Website)
Table 9.30 Technip Overview (Total Revenue (2011), Contract Backlog, ROVs, Submarket, HQ, Ticker, Website)
Table 9.31 Other Leading Companies in the ROV Market 2013 (Company, Involvement in the ROV Market)
Table 10.1 Global ROV Market Drivers and Restraints
Table 10.2 Global ROV Submarket Forecast Summary 2014, 2019, 2024 ($m, CAGR %)
Table 10.3 Regional ROV Market Forecasts Summary 2014, 2019, 2024 ($m, CAGR %)

List of Figures
Figure 2.1 Unmanned Underwater Vehicles Overview
Figure 2.2 Approximate ROV Market Share by Industry Sector 2013 (%)
Figure 2.3 Offshore Tasks Supported by ROVs
Figure 2.4 ROV Market Structure Overview
Figure 3.1 Global ROV Market Forecast 2014-2024 ($m, AGR%)
Figure 3.2 ROV Demand Cycle against CAPEX (Markets Forecast in Bold)
Figure 4.1 ROV Submarkets CAPEX Forecast, 2014-2024 ($m, AGR %)
Figure 4.2 ROV Operations/Services CAPEX Forecast, 2014-2024 ($m, AGR %)
Figure 4.3 ROV Operations/Services Market Forecast by Region 2014-2024 ($m)
Figure 4.4 ROV Operations/Services Market Forecast by Region 2014-2024 ($m)
Figure 4.5 ROVs Submarkets by Region Market Share, 2014 (%)
Figure 4.6 ROVs Submarkets by Region Market Share, 2019 (%)
Figure 4.7 ROVs Submarkets by Region Market Share, 2024 (%)
Figure 4.8 ROVs Submarkets (New Build vs. Operations/Services) Market Share 2014, 2019, 2024 (%)
Figure 4.9 Offshore 'Golden Triangle' Oil and Gas Reserves (bn bbl, tcf)
Figure 4.10 Crude Oil Spot Prices, 2003-2014 ($/bbl)
Figure 4.11 Proven and Unproven Offshore Oil & Gas Reserves in the World
Figure 4.12 Global Distribution of Offshore Oil and Gas Installations (%)
Figure 4.13 North Sea Oil Production, 1999-2012 (Thousand bpd)
Figure 4.14 ROVs Submarkets (New Build vs. Operations/Services) Market Share 2014, 2019, 2024 (%)
Figure 4.15 ROV New Build CAPEX Forecast 2014-2024 ($m, AGR%)
Figure 4.16 Observation, Inspection and Light Work Class vs. Medium- to Heavy- Work Class Ratio (%)
Figure 4.17 Observation, Inspection and Light Work Class Market Share Forecast 2014-2024 ($m, AGR%)
Figure 4.18 Medium- & Heavy Work Class ROV New Build CAPEX Forecast 2014-2024 ($m, AGR%)
Figure 4.19 Observation, Inspection and Light Work Class vs. Medium- to Heavy- Work Class Ratio (%)
Figure 4.20 ROV Fleet Makeup, 2007 (Observation & Mini Inspection vs. Inspection, Observation, Search & Survey and Light Work vs. Large and Medium Work and Support vs. Trenching and Burial)
Figure 4.21 ROV Fleet Makeup, 2010 (Observation & Mini Inspection vs. Inspection, Observation, Search & Survey and Light Work vs. Large and Medium Work and Support vs. Trenching and Burial)
Figure 4.22 ROV Fleet Makeup, 2013 (Observation & Mini Inspection vs. Inspection, Observation, Search & Survey and Light Work vs. Large and Medium Work and Support vs. Trenching and Burial)
Figure 4.23 ROV Fleet Share Change %, 2007-2013 (Observation & Mini Inspection vs. Inspection, Observation, Search & Survey and Light Work vs. Large and Medium Work and Support vs. Trenching and Burial)
Figure 4.24 ROV Medium and Heavy Work Class Fleet by Owner/Operator (Number of Units)
Figure 5.1 Regional ROV Market Forecasts 2014-2024 ($m)
Figure 5.2 Leading Regional Markets Share Forecast 2014 (%)
Figure 5.3 Leading Regional Markets Share Forecast 2019 (%)
Figure 5.4 Leading Regional Markets Share Forecast 2024 (%)
Figure 5.5 Cumulative CAPEX by Regional Market, 2014-2024 ($m, %)
Figure 5.6 Regional ROV Market CAGRs (%), 2014-19, 2019-2024, 2014-2024 ($m, %)
Figure 5.7 Regional ROV Market Share Change, 2014-2024 (%)
Figure 5.8 Barriers to Entry vs. National Market Size 2013 vs. CAGR% 2014-2024 ($m, AGR%)
Figure 5.9 European ROV Submarket Share Forecast for CAPEX on New Build ROVs 2014, 2019, 2024 (%)
Figure 5.10 European ROV Submarket Forecasts 2014-2024 ($m, AGR%)
Figure 5.11 Locations and Age of Infrastructure on the UK Continental Shelf
Figure 5.12 North Sea Oil Production, UK & Norway, 1999-2012 (Thousand bpd)
Figure 5.13 Average European Offshore Rig Count 2000-2012 (Units)
Figure 5.14 Number of Offshore UK Wells 1964-2011 (Exploration, Appraisal, Development)
Figure 5.15 North American ROV Market Share Forecast 2014, 2019, 2024 (%)
Figure 5.16 North American ROV Submarket Forecasts 2014-2024 ($m, AGR%)
Figure 5.17 Overview of Subsea Installation in the Gulf of Mexico
Figure 5.18 Location of Active Offshore Oil and Gas Platforms in the Gulf of Mexico
Figure 5.19 Water Depths of Active Oil & Gas Platforms in the Gulf of Mexico (% of Total)
Figure 5.20 South American ROV Market Forecast 2014-2024 ($m, AGR%)
Figure 5.21 South American ROV Market Share Forecast 2014, 2019, 2024 (%)
Figure 5.22 African ROV Market Forecast 2014-2024 ($m, AGR%)
Figure 5.23 African ROV Market Share Forecast 2014, 2019, 2024 (%)
Figure 5.24 Asia Pacific ROV Market Forecast 2014-2024 ($m, AGR%)
Figure 5.25 Asia Pacific ROV Market Share Forecast 2014, 2019, 2024 (%)
Figure 5.26 Total Oil Production in Malaysia 1980-2012 (Thousand bpd)
Figure 5.27 Total Oil Production and Estimated Net Exports in Indonesia 1980 - 2012 (Thousand bpd)
Figure 5.28 Rest of the World ROV Market Forecast 2014-2024 ($m, AGR%)
Figure 5.29 Rest of the World ROV Market Share Forecast 2014, 2019, 2024 (%)
Figure 6.1 Global AUV Market Forecast 2014-2024 ($m, AGR%)
Figure 6.2 AUV New Build CAPEX vs. ROV New Build CAPEX 2014, 2019, 2024 ($m, %)
Figure 9.1 Work Class ROV Fleet by Company, 2008-2013 (Number of Units, Company)
Figure 9.2 Percentage of the Work Class ROV Fleet Operated by Each Company, 2008-2013 (% of Work Class Fleet, Company)
Figure 9.3 Fugro ROV Fleet Forecast, 2008-2018 (Number of Work Class ROVs)
Figure 9.4 Oceaneering ROV Fleet Share (%), 2008 & 2013
Figure 9.5 Oceaneering ROV Fleet Share (%), 2008-2013
Figure 9.6 Oceaneering ROV Fleet Forecast, 2008-2018 (Number of Work Class ROVs)
Figure 9.7 Subsea 7 S.A. Revenue Development 2007-2012 ($m)
Figure 9.8 Subsea 7 Revenue Share by Region ($m, %) FY2012
Figure 9.9 Canyon Offshore ROV Fleet Forecast, 2008-2018 (Number of Work Class ROVs)
Figure 9.10 DOF Subsea ROV Fleet Forecast, 2008-2018 (Number of Work Class ROVs)
Figure 9.11 Technip ROV Fleet Forecast, 2008-2018 (Number of Work Class ROVs)
Figure 9.12 Technip Revenue Share by Region (%) 2012
Figure 10.1 Global ROV Submarket CAGR Forecasts 2014, 2019, 2024 (CAGR %)
Figure 10.2 Global ROV Submarket CAPEX Forecast, 2014-2024 ($m)
Figure 10.3 Global ROV Submarket CAPEX Forecast, 2014-2024 ($m)
Companies Listed
Acergy S.A.
AF Decom Offshore
Ageotec
AGR Field Operations Holdings AS
Aker Solutions
Allseas
Anadarko
Andrews Survey
Antrim Energy Inc.
Apache Corporation
Archer
Atlas Elektronik
ATP Oil & Gas
Baker Hughes
BG Group
BHP Billiton
Blade Petroleum Ltd.
Bowtech products
BP
BPZ Energy
Bridge North Sea
Canadian Natural Resources (CNR)
Canyon Offshore
Centrica plc
Chevron
Chubu Electric Power
C-Innovation
CNOOC China Limited
ConocoPhillips
CTC Marine Projects
Dana Petroleum
Deep Ocean Engineering Inc.
DeepOcean Group
Det Norske Oljeselskap ASA
DOF AS
DOF Group
DOF Subsea
Dominion Diving
DONG Energy
Dubai Petroleum
Dynacon
ECA Robotics
Encana
Endeavour International
Energy Resource Technology
ENI
ENI UK Ltd
EnQuest PLC
EOG Resources Inc.
EON
ExxonMobil
Floatation Technologies
FMC Technologies
Forum Energy Technologies
Fugro
Fugro Subsea Services Limited
GDF Suez
Gujarat State Petroleum Corporation
Hallin Marine
Harkland
Heerema Marine Contractors
Helix Energy Solutions Group
Hess Ltd
Hibiscus Petroleum
Husky Energy
IKM Gruppen
IKM Subsea
INPEX
Inpex Browse Ltd
Integrated Subsea Services
International Submarine Engineering
iSurvey Group AS
i-Tech
Itochu
Kodeco
Kuwait Foreign Petroleum
Kystdesign AS
LLOG
Lukoil
Lundin Petroleum
Maersk Oil
Marathon Oil UK
Mariscope
McDermott
Mermaid Maritime
Mitsubishi
MMTSweden AB
MODEC
MR Subsea KS
Murphy Oil
Neptune Marine Services
Nexen Inc.
Noble Energy
NYK Line
Oaktree Capital Management
Ocean Modules
Oceaneering International
Oceanvision
OceanWorks
Odebrecht
Osaka Gas
PDL Solutions Ltd
Pearl Energy
Pemex
Perenco Oil and Gas
Petrobras
Premier Oil
PTTEP
Qatar Petroleum
Rialto Energy Ltd
Rosneft
ROVOP
RWE-DEA
Saab Underwater Systems AB
Saab-Seaeye
Saipem
Salamander Energy
Santos
SBM Offshore
ScanSense
Schahin Group
Schilling Robotics
Seabotix
Seamor Marine
Seaview Systems
Semisubmersible Systems Inc.
Serica Energy
Shell
Shell Australia
Sidus Solutions
SMD (Soil Machine Dynamics)
SNK Ocean Co. Ltd.
Sogenal Ltd.
Soil Machine Dynamics (SMD)
Sonsub
Seadrill
Statoil
Stone Energy
Sub-Dimension Engineering Ltd
Subsea 7
Subsea Vision
Superior Energy Services
SURF Subsea
Syntech Technology
Tech-Fab
Technip
Teekay
Teledyne RD Instruments
The MacArtney Underwater Technology Group
Toho Gas
Tokyo Gas
Total E&P Australia
Total S.A.
TradeWinds Petrotrade
Transocean
Trelleborg
Trico Supply
TS Marine Group Holdings Pty Ltd
Veolia Marine Services
VideoRay
Wood Group PSN
Woodside
Xcite Energy
YPF

Other Organisations Mentioned in This Report
American Bureau of Shipping
Brazilian National Oil, Natural Gas and Biofuels Agency
DECC - Department of Energy & Climate Change (UK)
EIA - Energy Information Administration
European Union
Massachusetts Institute of Technology (MIT)
Norwegian Ministry of Petroleum and Energy
IMO - International Maritime Organisation
OPEC - Organisation of Petroleum Exporting Countries
Royal Navy
Transparency International
United Nations (UN)
US Government's Bureau of Safety and Environmental Enforcement (BSEE)
World Bank
World Economic Forum




当レポートのプレスリリースは発行されておりません。