医療用3Dプリンター技術の世界市場2014-2024年:市場予測、研究開発と業界動向
3D Printing for Healthcare: R&D, Industry and Market 2014-2024
出版元:Visiongain(英国)出版元情報

発行年:2014年1月

定価 Single User License(1名様ライセンス) 1,799 GBP(英国ポンド) / Department License(5名様ライセンス) 2,999GBP/ Site License 4,999GBP / Global Site License 6,999GBP

ご請求は円換算(お見積り日TTSレート)となります。

納品形態:PDF by Email

当調査レポートは英文162ページになります。

商品コード:VGN160
お問い合わせ、お見積りのリクエストは下のボタンをクリックしてご入力ください。






【レポート紹介】
Visiongain社では医療用3Dプリンター技術の世界市場は2018年に40億4300万ドルに達し、2024年にかけて高い成長率を遂げると予測しています。この分野における化学、およびエンジニアリング技術の専門プロバイダー企業には大きい市場機会があると言えそうです。当レポートでは同市場の2024年に至る市場予測、詳細なセグメント別予測分析に加え、市場動向、研究開発動向、リーディング企業情報などを概略以下の構成でお届けしています。

【レポート構成概要】
・医療用3Dプリンター技術の世界市場予測2014-2024年
・全162ページ、50個のデータ表、50個のチャートで分析定量化
・業界専門家オピニオンインタビュー:
- Andy Middleton, General Manager, EMEA (Europe, Middle East and Africa), Stratasys
- Dr Lothar Koch, Head of Biofabrication Group in the Nanotechnology Department, Laser Zentrum Hannover
- Michael Renard, Executive Vice President, Commercial Operations, Organovo

・セグメント別市場予測2014-2024年
- 歯科用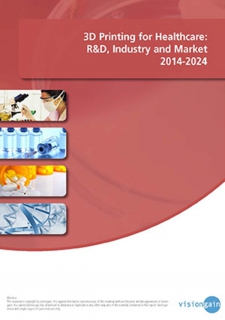 レポート表紙
- 医療用インプラント
- バイオプリント組織
- その他アプリケーション

・主要11ヶ国、国別市場予測2014-2024年
• 米国
• 日本
• ドイツ、フランス、英国、イタリア、スペイン
• ブラジル、ロシア、インド、中国.

・市場動向分析
- 技術(selective laser sintering (SLS), direct metal laser sintering (DMLS), electron beam melting (EBM), stereolithography (SLA), and bioprinting)
- 整形外科および頭蓋・顎顔面インプラント、医療モデル、試作品、医薬品
- 規制要件簡素化、イノベーション、3D技術の課題
- 椎間板、バイオ器官、生体工学、皮膚移植、移植用軟骨、人工血管、肝臓組織、心臓弁、および再建手術
- その他の研究開発パイプラインの進捗。生体適合性の改善と機能強化

・リーディング企業情報
• Tissue Regeneration Systems
• Oxford Performance Materials
• Within Technologies
• Tonrud Engineering
• Alphaform
• Arcam
• Stratasys
• 3D Systems
• Organovo.

Visiongain is a trading partner with the US Federal Government
【レポート詳細目次は当ページ下を参照ください】
英文詳細目次(table of contents)
3D Printing for Healthcare: R&D, Industry and Market 2014-2024
Table of Contents
1. Executive Summary
1.1 What This Report Covers
1.2 Overview of 3D Printing for Healthcare: Industry and Market 2014-2024
1.3 Chapter Outlines
1.4 Research and Analysis Methods
2. An Introduction to 3D Printing for the Healthcare Industry
2.1 3D Printing
2.1.1 The Original 3D Printing Process
2.1.2 Selective Laser Sintering (SLS)
2.1.3 Direct Metal Laser Sintering (DMLS)
2.1.4 Electron Beam Melting (EBM)
2.1.5 Stereolithography (SLA)
2.2 Bioprinting: The Printing of Living Cells
2.2.1 How 3D Printing With Living Tissue Works
2.2.2 The Near- and Long-Term Applications for 3D Bioprinting
2.2.3 Current Problems with 3D Bioprinting
2.3 The 3D Printing of Pharmaceuticals
2.3.1 3D Printing Technology in Drug Discovery
2.4 Classifying Medical Devices
2.4.1 The US Medical Devices Classification System
2.4.2 The EU Medical Devices Classification System
3. The 3D Printing Market for the Healthcare Industry, 2014-2024
3.1 The 3D Printing Market for Healthcare in 2012: Technology vs. Products
3.2 3D Printed Products in the Healthcare Industry: A Breakdown by Application
3.3 The 3D Printing Market for Healthcare: An Overarching Revenue Forecast 2014-2024
3.4 The Driving and Restraining Factors of the Industry
3.5 3D Printing Technology for Healthcare: Revenue Forecast 2014-2024
3.6 3D Printed Products for Healthcare by Application: Revenue Forecast 2014-2024
3.6.1 Dental Products Dominated the 3D Printed Products Market in 2012, But Will This Continue?
3.6.2 Medical Implants: Patient-Specific Orthopaedic and Cranio-maxillofacial Implants Are Produced Using 3D Printing Technology
3.6.2.1 The Driving and Restraining Factors Surrounding 3D Printed Medical Implants, 2013
3.6.3 Bioprinted Tissue: Commercial Launch Anticipated in 2014
3.6.4 Other Applications: Medical Modelling, Prototypes and Pharmaceuticals
4. The Leading National Markets for 3D Printing for Healthcare, 2014-2024
4.1 A Geographical Breakdown of 3D Printing Technology Manufacturers for the Healthcare Industry, 2012
4.2 The Leading National Markets for 3D Printing in Healthcare, 2012
4.3 The Leading National Markets: Comparison of Revenue and Market Share, 2018 and 2024
4.4 The Leading National Pharmaceutical Markets for 3D Printing for Healthcare: A Grouped Revenue Forecast, 2014-2024
4.5 The US Will Continue to be the Largest Consumer Throughout the Forecast Period
4.5.1 Pioneering Use of 3D Printed Medical Implants in the US
4.5.2 FDA Regulatory Requirements: Abridged Pathways Foster Innovation
4.6 The EU5 Account for 30% of the Market in 2012, But How Will This Change During the Forecast Period 2014-2024?
4.6.1 Germany Will Remain the Largest Market of the EU5 Throughout the Forecast Period
4.6.2 France: Strong Growth but a Decreasing Market Share
4.6.3 The UK: A Strong Network for 3D Printed Medical Implants Will Stimulate Sales of those Products
4.6.4 Italian Orthopaedic Device Manufacturers are Prominent Consumers of Arcam's AM Technology
4.6.5 Spain: the Smallest of the EU5 Will See the Highest Growth
4.7 Japan: Growth Will be Driven by Domestic as well as International Innovation
4.8 China: Domestic Innovation is Keeping Pace with the Western World
4.9 Brazil: A Rapidly Growing Dental Market Presents Opportunities for 3D Printing
4.10 The Indian Market is at an Early Stage
4.11 Will 3D Printing Penetrate the Russian Healthcare Market?
5. 3D Printing for Healthcare: Leading Organisations in the Market
5.1 Leading Organisations in the Industry, 2013-2014
5.2 Organisations in the Medical Implants Sector
5.2.1 Tissue Regeneration Systems: Commercialising 3D Printed Bioresorbable Skeletal Reconstruction Implants
5.2.2 Oxford Performance Materials: Selling 3D Printed Implants Since Late 2011
5.2.3 Within Technologies: A Manufacturer of Software for 3D Printing
5.2.3.1 Within Medical: A New Initiative Combining Medical Implant Design Software and a 3D Printing Manufacturing Program
5.2.3.2 The Future of Within Technologies in the Medical Field
5.2.4 C&A Tool: Manufacturing Parts for the Surgical, Orthopaedic, Implant and Tooling Fields
5.2.5 Tonrud Engineering: A Provider of DMSL Since November 2011
5.2.6 Alphaform AG's Two Business Segments Will Grow Synergistically
5.2.7 3T RPD Ltd: A UK-Based Additive Manufacturing Company
5.2.8 EOS: A Manufacturer of 3D Printers
5.2.9 Arcam AB is Seeing Rapid Growth in 2013
5.2.10 Xilloc Medical: Specialising in Patient-Specific Implants
5.2.11 LayerWise: A Specialist in Metal Additive Manufacturing
5.2.12 3D Systems: High Rates of Growth in the Healthcare Industry
5.2.13 Stratasys: Merged With Objet in December 2012
5.3 Organisations in the 3D Bioprinting Sector
5.3.1 Wake Forest Institute for Regenerative Medicine: Working to Engineer >30 Tissues and Organs Using 3D Printing
5.3.1.1 Timeline for Commercially Available Therapeutic Applications
5.3.1.2 Commercial Applications of the Technology in Drug Development
5.3.2 Organovo: An Early Stage Regenerative Medicine Company
5.4 Organisations in Other Industry Sectors
5.4.1 Aprecia Pharmaceuticals: A Unique Oral Drug Delivery System Produced by 3D Printing Technology
5.4.2 The Cronin Group, University of Glasgow: Working on the 3D Printing of Pharmaceuticals
5.4.3 EnvisionTEC Provides Seven 3D Printing Systems for a Variety of Applications in the Medical and Dental Industries
5.4.4 Materialise NV: 3D Printing Medical Models
6. 3D Printing for the Healthcare Industry: The R&D Pipeline, 2013-2014
6.1 R&D in the Field of Medical Implants
6.1.1 Improving Biocompatibility of 3D Printed Medical Implants with Vitamin B2
6.1.2 3D Printing Intervertebral Discs Could Look Forward to a Share of a $90bn Market
6.1.3 3D Printing of Bionic Organs with Enhanced Functionality
6.2 R&D in the Field of Bioengineering
6.2.1 3D Printing of Skin Grafts: In Hospitals Within 10 Years?
6.2.2 The Production of Implantable Cartilage Using 3D Printing
6.2.3 3D Printing Blood Vessels is a Step Towards the Fabrication of Organs
6.2.3.1 Work at the University of Pennsylvania and MIT
6.2.3.2 Work at Fraunhofer
6.2.4 3D Printing of Functioning Livers at Organovo
6.2.5 3D Printing of Replacement Ears for Reconstructive Surgery
6.2.6 3D Printing to Fabricate Artificial Heart Valves
6.2.7 3D Printing Miniature Spheres with a Lipid Bilayer: Mimicking the Membranes of Living Cells
6.3 R&D in Other Fields
6.3.1 The 3D Printing of Pharmaceuticals: The Potential to Improve Access to Pharmaceuticals in Remote Corners of the World?
7. Qualitative Analysis of the 3D Printing Industry for Healthcare, 2013-2014 Onwards
7.1 Strengths and Weaknesses of the 3D Printing Industry for Healthcare at the End of 2013
7.1.1 The Market is in a High Growth Phase
7.1.2 AM Has a Smaller Resource Footprint
7.1.3 Customised Implants are in High Demand
7.1.4 Producing Complex Shapes and Parts
7.1.5 With High Volume, the Technology is Inefficient
7.1.6 3D Printing Remains Expensive
7.1.7 The Impact of the Adoption of 3D Printing on Jobs in Medical Manufacturing Industries
7.2 Opportunities and Threats Facing the Industry and Market, 2014-2024
7.2.1 Uses of 3D Printing in the Healthcare Industry Expand
7.2.2 The Demand for Personalised Medicine Represents a Lucrative Opportunity
7.2.3 There Exists Much Governmental Investment in the Technologies
7.2.4 Opportunities in Post-Production Finishing
7.2.5 Threats Posed by Questions over Legal Responsibility and Rights
7.2.6 Threats Posed by Alternative Manufacturing Methods
7.3 The Social, Technological, Economic and Political Factors Influencing the 3D Printing Industry for Healthcare, 2014-2024
7.3.1 Social Influences on Market Trends
7.3.2 Technological Influences on Market Trends
7.3.3 Economic Influences on the Market
7.3.4 Political Influences on the Market
8. Research Interviews
8.1 Interview with Andy Middleton, General Manager, EMEA (Europe, Middle East and Africa), Stratasys
8.1.1 On Stratasys' Offerings for the Healthcare Industry
8.1.2 On the Demand for 3D Printing in Healthcare
8.1.3 On the Future of 3D Printing in the Healthcare Industry
8.2 Interview with Dr Lothar Koch, Head of Biofabrication Group in the Nanotechnology Department, Laser Zentrum Hannover
8.2.1 On Laser-Assisted BioPrinting
8.2.2 On the Uses of 3D Printed Tissue
8.2.3 On 3D Printed Tissue vs. Traditional In Vitro Models
8.2.4 On 3D Printed Tissue for Transplantation
8.2.5 On Research in the Field
8.2.6 On the Timeline for Commercial Availability
8.3 Interview with Michael Renard, Executive Vice President, Commercial Operations, Organovo
8.3.1 On the Applications for 3D Bioprinting
8.3.2 On the Commercial Prospects of the Technology
8.3.3 On Potential Factors That Could Inhibit Development
8.3.4 On the Timeline for the Use of Bioprinted Tissues in Therapy
9. Conclusions from Our Study
9.1 The 3D Printing Market for the Healthcare Industry: Technology vs. End Products, 2014-2024
9.2 3D Printed Products for the Healthcare Industry by Application: Comparison of Revenue, 2012, 2018 and 2024
9.3 The Leading National Markets for 3D Printing in the Healthcare Industry, 2014-2024
9.4 Trends in the Industry and Market
9.4.1 3D Printing Technology is Already Established in the Field of Dentistry
9.4.2 The Uptake of 3D Printed Orthopaedic Implants is Gathering Pace
9.4.3 An Increasing Focus on Bioprinting
9.4.4 Demand for Technology Corresponds With the Demand for Products
List of Tables
Table 1.1 Currency Exchange Rates
Table 2.1 The US Classification of Medical Devices
Table 2.2 The EU Classification of Medical Devices
Table 3.1 Breakdown of the Market by Technology and Products: Revenue ($m) and Market Share (%), 2012
Table 3.2 3D Printed Products for Healthcare by Application: Revenues ($m) and Market Shares (%), 2012
Table 3.3 3D Printing in the Healthcare Industry by Submarket: Revenue ($m) and Market Share (%) Forecasts, 2013-2024
Table 3.4 3D Printing Technology for Healthcare: Revenue Forecast ($m), 2013-2024
Table 3.5 3D Printed Products for Healthcare by Application: Revenue ($m) and Market Share (%) Forecasts, 2013-2024
Table 3.6 3D Printed Dental Products: Revenue ($m) and Market Share (%) Forecast, 2013-2024
Table 3.7 3D Printed Medical Implants: Revenue ($m) and Market Share (%) Forecast, 2013-2024
Table 3.8 Bioprinted Tissue: Revenue ($m) and Market Share (%) Forecast, 2013-2024
Table 3.9 Other Applications: Revenue ($m) and Market Share (%) Forecast, 2013-2024
Table 4.1 Geographical Breakdown of 3D Printing Technology Manufacturers for Healthcare: Revenue ($m) and Market Share (%) by Region, 2012
Table 4.2 Leading National Markets for 3D Printing Technology and 3D Printed Products for Healthcare: Revenue ($m) and Market Share (%), 2012
Table 4.3 The Leading National Markets for Sales of 3D Printing Technology and 3D Printed Products for Healthcare: Comparisons of Revenue ($m) and Market Share (%), 2018 and 2024
Table 4.4 The Leading National Markets for Sales of 3D Printing Technology and 3D Printed Products for Healthcare: Revenue Forecasts ($m), 2013-2024
Table 4.5 The US 3D Printing Market for Healthcare: Revenue ($m) and Market Share (%) Forecast, 2013-2024
Table 4.6 The EU5: National Revenue ($m) and Market Share (%) Forecasts, 2013-2024
Table 4.7 The German 3D Printing Market for Healthcare: Revenue ($m) and Market Share (%) Forecast, 2013-2024
Table 4.8 The French 3D Printing Market for Healthcare: Revenue ($m) and Market Share (%) Forecast, 2013-2024
Table 4.9 The UK 3D Printing Market for Healthcare: Revenue ($m) and Market Share (%) Forecast, 2013-2024
Table 4.10 The Italian 3D Printing Market for Healthcare: Revenue ($m) and Market Share (%) Forecast, 2013-2024
Table 4.11 The Spanish 3D Printing Market for Healthcare: Revenue ($m) and Market Share (%) Forecast, 2013-2024
Table 4.12 The Japanese 3D Printing Market for Healthcare: Revenue ($m) and Market Share (%) Forecast, 2013-2024
Table 4.13 The Chinese 3D Printing Market for Healthcare: Revenue ($m) and Market Share (%) Forecast, 2013-2024
Table 4.14 The Brazilian 3D Printing Market for Healthcare: Revenue ($m) and Market Share (%) Forecast, 2013-2024
Table 4.15 The Indian 3D Printing Market for Healthcare: Revenue ($m) and Market Share (%) Forecast, 2013-2024
Table 4.16 The Russian 3D Printing Market for Healthcare: Revenue ($m) and Market Share (%) Forecast, 2013-2024
Table 5.1 Prominent Organisations in the 3D Printing Market for the Healthcare Industry, End of 2013
Table 5.2 Prominent Organisations in the Medical Implant Market, End of 2013
Table 5.3 Medical Implants Designed by Within Technologies' Software, 2013
Table 5.4 Alphaform: Breakdown of Revenue ($m, %) by Business Segment, 2012
Table 5.5 Arcam: Breakdown of System Sales to the Medical Implant Industry by Country, 1997-2012
Table 5.6 Materials Used by Xilloc Medical, 2013
Table 5.7 The Main Organisations 3D Bioprinting Market, 2013
Table 5.8 Prominent Organisations in Other Industry Sectors Using 3D Printing, 2013
Table 5.9 EnvisionTEC 3D Printing Systems for the Medical and Dental Industries, 2013
Table 6.1 Improving Biocompatibility of 3D Printed Medical Implants: Main Facts, 2013
Table 6.2 3D Printing Intervertebral Discs: Main Facts, 2013
Table 6.3 3D Printing of Bionic Organs: Main Facts, 2013
Table 6.4 3D Printing of Skin Grafts: Main Facts, 2013
Table 6.5 3D Printed Cartilage: Main Facts, 2013
Table 6.6 3D Printing of Blood Vessels: Main Facts, 2013
Table 6.7 3D Printing of Functioning Liver Tissue: Main Facts, 2013
Table 6.8 3D Printing of Replacement Human Ears: Main Facts, 2013
Table 6.9 3D Printing of Heart Valves: Main Facts, 2013
Table 6.10 3D Printing of Material That Mimics Living Cells: Main Facts, 2013
Table 6.11 3D Printing of Pharmaceuticals: Main Facts, 2013
Table 7.1 Strengths and Weaknesses of the 3D Printing Industry for Healthcare, 2013-2014
Table 7.2 Opportunities and Threats Facing the Industry and Market, 2014-2024
Table 7.3 STEP Analysis: Social, Technological, Economic and Political Forces Influencing the 3D Printing Market for Healthcare, 2014-2024
List of Figures
Figure 3.1 Breakdown of the Market by Technology and Products: Market Share (%), 2012
Figure 3.2 3D Printed Products for Healthcare by Application: Market Share (%), 2012
Figure 3.3 3D Printing in the Healthcare Industry: An Overarching Revenue Forecast ($m), 2013-2024
Figure 3.4 The 3D Printing Market for Healthcare by Submarket: Market Share (%), 2018
Figure 3.5 The 3D Printing Market for Healthcare by Submarket: Market Share (%), 2024
Figure 3.6 Driving and Restraining Factors of 3D Printing for Healthcare, 2014
Figure 3.7 3D Printing Technology for Healthcare: Revenue Forecast ($m), 2013-2024
Figure 3.8 Driving and Restraining Factors of 3D Printing Technology in the Healthcare Industry, 2014
Figure 3.9 3D Printed Products for Healthcare by Application: Revenue Forecast ($m), 2013-2024
Figure 3.10 3D Printed Products by Application: Market Share (%), 2018
Figure 3.11 3D Printed Products by Application: Market Share (%), 2024
Figure 3.12 3D Printed Dental Products: Revenue Forecast ($m), 2013-2024
Figure 3.13 Driving and Restraining Factors of the 3D Printed Dental Product Market, 2014
Figure 3.14 3D Printed Medical Implants: Revenue Forecast ($m), 2013-2024
Figure 3.15 Driving and Restraining Factors of the 3D Printed Medical Implants Market, 2014
Figure 3.16 Bioprinted Tissue: Revenue Forecast ($m), 2013-2024
Figure 3.17 Driving and Restraining Factors of the 3D Bioprinting Market, 2014
Figure 3.18 Other Applications: Revenue Forecast ($m), 2013-2024
Figure 3.19 Driving and Restraining Factors of the Market for Other Applications, 2014
Figure 4.1 Geographical Breakdown of 3D Printing Technology Manufacturers for Healthcare: Market Share by Region (%), 2012
Figure 4.2 Leading National Markets for Sales of 3D Printing Technology and 3D Printed Products for Healthcare: Market Share (%), 2012
Figure 4.3 The Leading National Markets for Sales of 3D Printing Technology and 3D Printed Products for Healthcare: Market Share (%), 2018
Figure 4.4 Leading National Markets for Sales of 3D Printing Technology and 3D Printed Products for Healthcare: Market Share (%), 2024
Figure 4.5 Leading National Markets for Sales of 3D Printing Technology and 3D Printed Products for Healthcare: Grouped Revenue Forecast ($m), 2013-2024
Figure 4.6 The US 3D Printing Market for Healthcare: Revenue Forecast ($m), 2013-2024
Figure 4.7 The EU5 3D Printing Market for Healthcare: Market Share by Country (%), 2012
Figure 4.8 The EU5: National Revenue Forecasts ($m), 2013-2024
Figure 4.9 The German 3D Printing Market for Healthcare: Revenue Forecast ($m), 2013-2024
Figure 4.10 The French 3D Printing Market for Healthcare: Revenue Forecast ($m), 2013-2024
Figure 4.11 The UK 3D Printing Market for Healthcare: Revenue Forecast ($m), 2013-2024
Figure 4.12 The Italian 3D Printing Market for Healthcare: Revenue Forecast ($m), 2013-2024
Figure 4.13 The Spanish 3D Printing Market for Healthcare: Revenue Forecast ($m), 2013-2024
Figure 4.14 The Japanese 3D Printing Market for Healthcare: Revenue Forecast ($m), 2013-2024
Figure 4.15 The Chinese 3D Printing Market for Healthcare: Revenue Forecast ($m), 2013-2024
Figure 4.16 The Brazilian 3D Printing Market for Healthcare: Revenue Forecast ($m), 2013-2024
Figure 4.17 The Indian 3D Printing Market for Healthcare: Revenue Forecast ($m), 2013-2024
Figure 4.18 The Russian 3D Printing Market for Healthcare: Revenue Forecast ($m), 2013-2024
Figure 5.1 Alphaform: Geographical Distribution of Revenue, 1H2013
Figure 5.2 Alphaform: Breakdown of Revenue by Business Segment (%), 2012
Figure 5.3 Arcam: Breakdown of System Sales by Industry, 1997-2012
Figure 5.4 Arcam: Breakdown of System Sales to the Medical Implant Industry by Country, 1997-2012
Figure 5.5 3D Systems: Breakdown of Revenue by Industry, 3Q 2013
Figure 6.1 3D Printing Technology for Healthcare: Outline of the R&D Pipeline, 2013
Figure 8.1 Orthodontic Model Produced on a Stratasys Objet30 OrthoDesk 3D Printer
Figure 8.2 VeinViewer® Flex designed Using Stratasys 3D Printed Prototypes
Figure 8.3 VeinViewer® Displaying Blood Beneath the Surface of an Adult Female Hand
Figure 8.4 Jorge Vicente Lopes da Silva, Chief of Tridimensional Technologies Division (DT3D - CTI), Shows 12-year-old Boy's Skull Model Produced on an Objet350 Connex Multi-material 3D Printer
Figure 9.1 3D Printing for the Healthcare Industry: Revenue Forecast ($m) Broken Into Technology and Products, 2013-2024
Figure 9.2 3D Printed Products for the Healthcare Industry by Application: Comparisons of Revenue ($m), 2012, 2018 and 2024
Figure 9.3 The Leading National Markets in the 3D Printing Industry for Healthcare: Comparison of Revenue ($m), 2012, 2018 and 2024
Companies Listed
3D Systems Corp
3T RPD
5N Plus
Adler Ortho
Alphaform AG
Aprecia Pharmaceuticals
Arcam AB
Asian Manufacturing Association (AMA)
BestinClass SA
Biomet
C&A Tool
Chinese FDA (CFDA)
Clemson University
Compass3D
Conformité Européenne (CE)
Cornell University
Deloitte
DePuy Synthes
Deutsches Herzzentrum Berlin (DHZB)
DiSanto Technology
EnvisionTEC
EOS
Ernst & Young
Expert 3D Solutions
FirstSurface Ltd.
Food and Drug Administration (US FDA)
Fraunhofer Institutes
Hangzhou Dianzi University
Harvard University
Imaginarium
Industry Alliance of China 3D Printing Technology
Invetech
Johns Hopkins University
Knight Cancer Institute
Kyoto University
Laser Zentrum Hannover
LayerWise
Lexmark
Lima Corporate
Maastricht Instruments B.V.
Massachusetts Institute of Technology (MIT)
Materialise NV
Mattel Children's Hospital
MCP HEK Tooling
Medical Modelling
Medimet GMBH
Medtronic
Michael J Fox Foundation
Ministry of Industry and Information Technology
Nakashima Medical
National Additive Manufacturing Innovation Institute (NAMII)
North Carolina State University
Nottingham University Hospitals Trust
Objet
OBL
Office of Science and Engineering Laboratories
Oregon Health and Science University
Organovo
Oxford Performance Materials (OPM)
Peking University 3rd Hospital
Pfizer
Princeton University
Protosys Technologies
Queen's Medical Centre (QMC)
Roche
Royal Perth Hospital, Australia
SIU System
SkinPrint
Smith & Nephew
Sony DADC
State Food and Drug Administration (SFDA)
Stratasys
Stryker
The Cronin Group
The Michael J Fox Foundation
Tissue Regeneration Systems
Tonrud
TU Berlin
UCLA
United Therapeutics
University of Glasgow
University of Michigan
University of North Carolina
University of Oxford
University of Pennsylvania
University of Wisconsin
Wake Forest Institute for Regenerative Medicine (WFIRM)
Walter Reed National Military Medical Center
Weill Cornell Medical College
Within Technologies
Wyss Institute for Biologically Inspired Engineering
Xilloc Medical
Zimmer

当レポートのプレスリリースは発行されておりません。